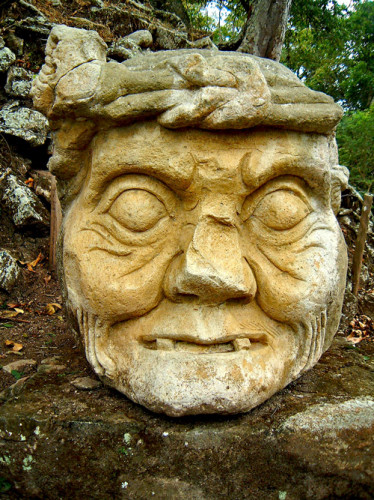 W1095: Pauahtun (West Court)The two Pauahtun heads found at Copán are amongst the most iconic of all the stone carvings and are often referred to as the Old Man of Copan. Age is thought to be indicative of wisdom and it is thought Pauahtun may be an elderly incarnation of the great God Itzamna who created the universe at the beginning of the Mayan era – an era that began in 3114BC and ended in 2012AD. Itzamna was also the God of scribes and knowledge, and this wise old face would certainly fit within the theory. Pauahtun also frequently wears what appears to be a netted headdress, but may actually be a crocodile skin hat. The purpose of this is unknown.
Pauahtun is also commonly associated with the Bacab who were tasked with holding up the four corners of the universe that Itzaman created. As such, they represented the cardinal points of north, south, east and west. The Bacab were fundamentally important to the Mayan world and were also  associated with colours and years. Their names and affiliations are:
| | | | |
| --- | --- | --- | --- |
| Name | Direction | Colour | Year |
| Cantzinal | North | White | Muluc |
| Hosanek | South | Yellow | Cauac |
| Hobnil | East | Red | Kan |
| Saccimi | West | Black | Ix |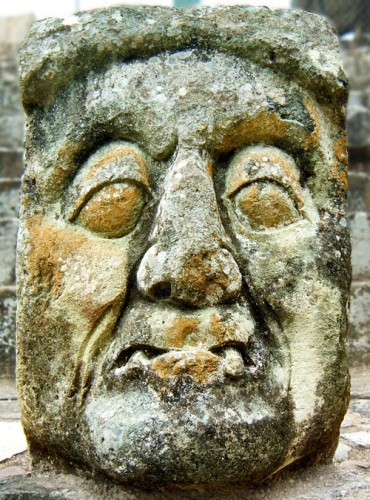 W1077: Pauahtun (East Court)Representations of Bakab and Pauatun can be found across the Mayan territories, although sometimes they are also represented by Chac, the God of Rain and Thunder. It is possible that in different years the four "Sky Bearers" or "Year Bearers", as the Bakab are also known, took slightly different forms. Hosanek, for example, is in charge of the year Cauac (Chac) and so it may be that during this year the appearance of the Bacab would reflect whose year it was.
Effigies of the Pauatun or Bacab would often be found holding up the roofs of important buildings – presumably the building was intended to be identified with the earth and its ceiling or roof played  the role of the sky and needed to be supported by Bakab. Therefore, these Old Man of Copan may have been two of four heads once mounted on a building somewhere – possibly one of those lost to the Copan River in the early 19th century. However, currently one (fig. W1095) sits in the West Court and the other (fig. W1077) sits in the East Court.