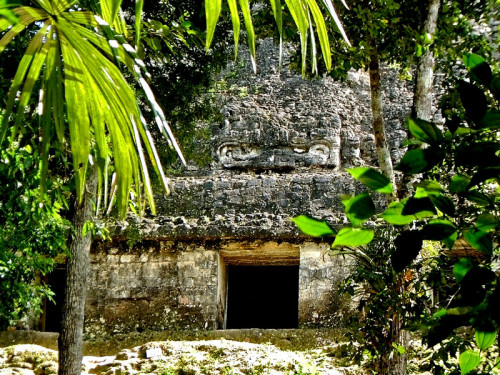 Templo VITemplo VI (Temple 6) is also known as the Temple of Inscriptions because a series of hieroglyphic texts adorn the sides and back of the temples roof comb.  Officially, the Temple is known as Structure 6F-27 and lies at the end of the Mendez Causeway at the southeast extremity of the modern archaeological park. 
The roof comb reaches a magnificent height of 12 metres, making it the main feature of an otherwise unimpressive low-rise structure. The lack dominating pyramid base and the use of a triple doorway design, suggest that Templo VI is not a temple at all, but some other sort of palatial space or municipal building. The temple was probably built in the early 8th century, as stela 21 which is found at the foot of the Temple's pyramid's structure is dedicated to the accession of Yik'in Chan K'awiil, which it dates as having taken place in 734 AD and most sources dates it to 766 AD.
The inscriptions on the roof comb only add to the mystery of Temple 6, as they seem to be a list of dates and events which start a long way back in time, with a date of 1143 BC. Their location on the rear of the roof comb where they lack prominence is also a mystery, as it suggest they weren't intended to be publicly visible. The events are undeciphered because they don't describe any known events or persons, however David Stuart, a Mayan linguistic expert, has made an attempt to add some meaning to them. In his post entitled " White Owl Jaguar: A Tikal Royal Ancestor", Stuart makes the following translations:
5.0.0.0.0 12 Ajaw 3 Zak – PE in presence of White Owl Jaguar
6.14.16.9.16 11 Cib 4 Zak – ?
7.10.0.0.0 3 Ajaw 13 Pax – PE in presence of White Owl Jaguar
9.4.0.0.0 13 Ajaw 18 Yax – PE in presence of White Owl Jaguar
9.4.13.0.0 13 Ajaw 13 Yaxkin – Ritual at waybil shrine of White Owl Jaguar
9.4.13.4.16 5 Kib 9 Keh – Fashioning of stone, White Owl Jaguar
9.4.13.6.14 4 Ix 7 Kankin – "Road-striking"(?) event, White Owl Jaguar
9.4.13.7.7 4 Manik 0 Muwan – ? […missing portions…]
9.16.14.17.17 4 Kaban 15 Pop – Dedication of waybil shrine
9.16.15.0.0 7 Ajaw 18 Pop – PE by Ruler B
The initial date of 5.0.0.0.0 12 Ajaw 3 Zak is 1143 BC, but then the records skip forward considerably to the 7th century BC then the turn of the 1st century BC, before settling into a steady stream of events between the 5th and  9th centuries. The abbreviation PE stands for the Period Ending Ceremony. Stuart's main breakthrough is deciphering the name White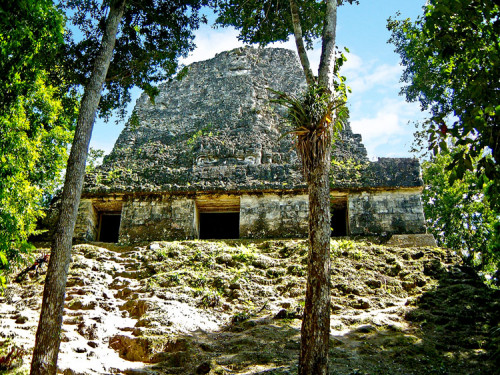 Templo VIOwl Jaguar as an ancient ancestor. Whilst he admits he is uncertain on the exact correctness of his translation, the idea that the inscriptions talk of an ancient ancestor makes perfect sense and is in keeping with the Temple monuments at Tikal, which are principally funerary monuments designed to worship Gods and ancestors together as one. Given the initial date of 1143 BC,  it wouldn't be imprudent to suggest that White Owl Jaguar was heralded as the founder of the of Tikal,  and that the events are ceremonies or building projects designed to honour this great ancestral patron. 
In a later article, "Dating Tikal's Mendez Causeway", Stuart uses his decipherment to place the building of the Mendez Causeway, which leads from the central plaza to Temple IV, to the inscription he translated as "Road-Striking" on the date December 19, 527 AD. This fits the archaeology and suggests that Stuart may have gotten very close to accurately deciphering the mysterious inscriptions of Templo IV.
References:
http://decipherment.wordpress.com/2007/11/04/white-owl-jaguar-a-tikal-royal-ancestor/
http://decipherment.wordpress.com/2012/02/16/dating-tikals-mendez-causeway/