Welcome to Uncovered History…
Welcome to Uncovered History. We hope you find it interesting, informative and inspiring. At present this site is work in progress – and will probably always be so as History is constantly being Uncovered – so please return frequently to see what new has been added. We are currently posting information about the sites we have travelled to and the countries we visited in the process. We know from our experiences that even the best museums have very little information on display about their artefacts and that archaeological sites generally don't even have a sign to tell you what building you are looking at! Therefore, this site is intended to help fill in the history and let you explore these amazing ancient sites armed with knowledge and understanding, whether online or in person. We hope this site inspires you to visit these amazing places and witness these incredible objects, cities and ancient civilisations with your own eyes.
About the authors…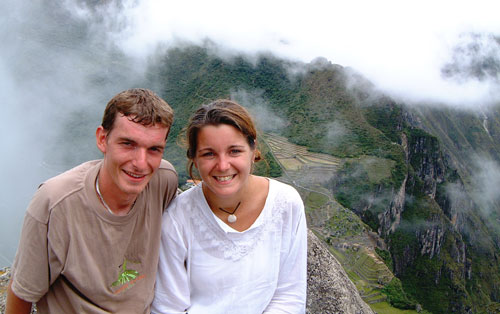 Looking down on Machu Picchu in 2002My name is Robin Heyworth and together with my wife, Fritha, we have visited dozens of countries and countless historical sites and museums. Amongst our favourite destinations are: Egypt, Italy, Venice, Greece, Turkey, Guatemala, Belize, Honduras, Columbia, Indonesia, Cambodia, Thailand and Loas – we have been to quite a few more though. Our absolute favourites were Mexico and Peru, which offer a unique blend of adventure and intrigue. Very little is known about the civilisations that lived there and yet they built some of the most inspiring cities in some of the most breathtaking locations found on earth. If you would like to add some of the ancient sites you have been to then please do get in touch via the email address below – we could use a little help as there are a lot of incredible historical sites out there we haven't been to…yet!
Terms & Conditions
The content of this website is either the original work of the authors, who are named on each post, or Robin Heyworth. The authors retain copyright for any of their content (text and images) unless otherwise stated. This website was designed and built by Robin Heyworth. There are occasions when a photo has been used that is not the property of the author, in which case the copyright holder is stated and we have made every effort to adhere to contact the holder. If you believe any copyright laws have been transgressed by uncoveredhistory.com, then please email us on the address given below.
If you wish to use images or text from this website for non-commercial purposes then in general that is fine, but the original author or Robin Heyworth remains the copyright holder and reserves the right to ask you to withdraw said images or text. In such cases, we request that you link back to uncoveredhistory.com (preferably the post on which the image or text was originally found) and thank us via email address stated below 🙂
If you would like to use an image or text from this web-site for commercial purposes then we are flattered, but please contact us using the email address below for our express consent before using any material.
Privacy Policy
Please view our full Privacy Policy for more information.
Contact Us:
To contact us about anything you can either leave a post or email us on the below address: